Sketches
The camera is the perfect sketch tool. This Sketches series is part notebook, part sketch book, part diary, part travel journal, part random thoughts, part photographic portfolio — a mixture of images and words. An eclectic series of observations, the Sketches publications allow me the freedom to look at the world in front of my lens and share what I see and think about this marvelous process of living.

I think of this Sketches series as the photographic equivalent of short stories. They are short projects, often just a handful of images and short text that are intended as quick observations. Less than a book, more than a print, these Sketches are, well, sketches of life. I'd like to say they are profound, but I really hope they are simply fun and way for us to share a few thoughts, experiences, and travels.

About the concept, the project,
and pricing.
Two Media Choices
This series is being parallel published in two media for different audiences — ePublication PDFs for digital download, and as printed and bound chapbooks. The ePublications are for viewing with an iPad or other tablet device. The chapbooks are handmade artist's books with a decided collectibility for those who love physical prints and the handheld viewing of fine art photography. Try sampling the content with the free PDFs and choose which titles your might be interested in collecting in their physical form.
Chapbooks and Pricing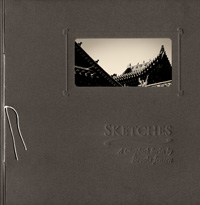 A chapbook is a wonderful way for artists to publish small, finely crafted handmade books. Chapbooks have been made by poets and calligraphers for generations. A chapbook is also a wonderful way to present photographs. My chapbooks are from 4 to 12 pages in length containing anywhere from a few up to a dozen images and text. These hand-sewn volumes are all printed to the highest archival standards and are truly collectible publications. I particularly like that they offer and intimate, handheld viewing experience that brings the viewer in direct contact with the materials. These are a delight for anyone who loves paper and the tactile experience of handling a finely crafted object.
Most importantly, I strive to make them affordable so everyone who is so motivated can own them. I cringe when money gets in the way of sharing art. With this in mind, I've priced the chapbooks so there won't be a barrier to ownership for anyone who wants one. Chapbooks are $35, but less when you purchase more than one at a time!
Free ePublications for iPad and Other Tablets
Unlike the physical presentations in this Sketches series (the chapbooks), the PDF publications offer two advantages for this project: unlimited no-cost distribution, and no limits on the number of images that can be included with each title. This is the perfect complement to the physical chapbooks. These ePublications editions in the Sketches series follow (as closely as can be in such different media) the design of the physical chapbooks, but with a little more content — both images and text. These are PDFs that can be viewed on any tablet device using almost any PDF reader application. We do recommend GoodReader for the iPad as the best of the lot; the Adobe Reader for Android tablets is great.
Although they are published specifically for tablet devices, these PDFs can also be viewed on your PC or Mac computer using the free Adobe Reader software available from www.adobe.com.
New Chapbooks Pricing

Chapbooks are all priced $35, but you want to save money and I want to get my artwork into the hands of as many people as I can. So, here's the offer:

Buy 2 chapbooks and we'll reduce the price by $7.50 each*
Buy 3 chapbooks and we'll reduce the price by $10 each*
Buy 4 or more chapbooks and we'll reduce the price by $12 each — and we'll pay for shipping within the USA to boot*

Just my way of saying thanks.

Seriously, thanks!
Brooks Jensen


* Must be on the same order. Must ship to the same location. The discounts will apply automatically during checkout.

---
The Corn Winnower
of Xiang Sha Wan


From the Sketches series, Stories from the Middle Kingdom

When I think of camels, I think of dunes and heat and thirst. At the outpost of Xiang Sha Wan near the headwaters of the Yellow River in Inner Mongolia, we found plenty of camels at the edge of the massive Gobi Desert. We also found a bitter winter wind that bit man and beast to the bone — instantly freezing every drop of water.

---
Suspended Without Wings


from the Sketches series

When I was a boy, no doubt influenced by the superheroes of my boyish fictions, I dreamt of flying. It was a difficult lesson for a young boy to learn; that the immutable laws of physics – gravity – could not be overcome by even the most fervent dreams and wishes of fanciful youth. I know, there are balloons and airplanes and helicopters – but I wanted wings.

Free PDF
for iPad and other tablet devices

---
On the White Wall

There is an old joke that asks:
Is a zebra a white horse with black stripes, or a black horse with white stripes?

Answer: It is, of course, an invisible horse with both black stripes and white stripes.

How else would we see it?

---
Uncle Kenny

Everyone has an "Uncle Kenny"—or should have, a man who works hard—with his hands—his entire life. Kenny was actually my wife's uncle, or I should say, one of her many uncles. On my side of the family, there was Uncle Lee—hardworking, slow talking, with hands so strong he had to consciously shake hands with a gentle touch. By the time I met Kenny, decades on the farm had taken its toll. His hands reminded me of his old tools—bent and scarred, a testament to years of use.

---
Fog in the Hills and Aits

"Fog everywhere. Fog up the river, where it flows among green aits and meadows; fog down the river, where it rolls deified among the tiers of shipping and the waterside pollutions of a great (and dirty) city. Fog on the Essex marshes, fog on the Kentish heights."

Thus begins Bleak House, one of Charles Dickens' most beloved novels. Inspired by this 1852 novel, here is a collection of landscapes with that most ephemeral of atmospheres.

---
Hilo Palms

There they were — the palms! — overflowing with life in a ravine near Hilo. What complex beauty! They were jazz brought to life in an explosion of jiggity details and repeating, graceful arcs that make a chord of wonder for a photographer's eye. No, not a chord — a forest of chords.

---
The Winter Light of Lvzu Temple
From the series Stories from the Middle Kingdom

In January of 2011, I visited the inner-Mongolia city of Baotou, China where I photographed the Lvzu Temple in a glorious, angular winter light.

---
Longquan Swords
From the series Stories from the Middle Kingdom

The region of China known as Longquan has been famous for its sword makers for hundreds of years. I had an opportunity to visit one of these sword-making workshops in 2009.

---
Worlds Within Worlds

In my youth, I read Guy Murchie's Music of the Spheres and was struck how Murchie's description of the vast cosmos looked so remarkably like what I was photographing in the tiny worlds in a drop of pond water. Seeing photographs of the great nebulae through the telescope reminded me of the amoeba under the coverslip.

Also see my 10-print folio of this work.

---
The Fisherman with One Eye
From the series Stories from the Middle Kingdom

Every person on this planet has a story — is a story. When I photographed the fisherman with one eye in rural China in 2011, I wanted to know more of his story.

---