Worlds Within Worlds
In my youth, I read Guy Murchie's Music of the Spheres and was struck how Murchie's description of the vast cosmos looked so remarkably like what I was photographing in the tiny worlds in a drop of pond water. Seeing photographs of the great nebulae through the telescope reminded me of the amoeba under the coverslip.

Folio of 10 prints
This folio is 8x10.5" and includes
10 pigment-on-paper prints, a
8-page folded and sewn text signature
Folios are signed and numbered, but not limited.
The cover is made from an acid-free archival art paper – Gilbert Oxford 100# Cover. The warm tone of this paper perfectly matches the warmth of the prints. The self-closing cover is embossed with my name and logo. The die-cut opening displays the folio title.
The assembly uses only archival, acid-free materials to protect the life of the prints and pages inside.
Each folio is shipped in a sealed, ClearBags™ sleeve.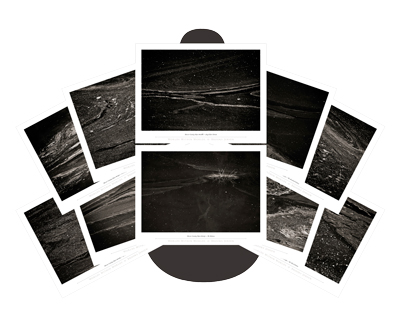 Chapbook
The camera is the perfect sketch tool. This Sketches series is part notebook, part sketch book, part diary, part travel journal, part random thoughts, part photographic portfolio — a mixture of images and words. An eclectic series of observations, theSketches publications allow me the freedom to look at the world in front of my lens and share what I see and think about this marvelous process of living.